Please note we consistently update information in the Exhibitor Kit. It's best to check in from time to time for important updates.
Show Information
June 2, 2019 9am - 3pm
Phoenix Convention Center - SOUTH Building
100 North Third Street
Phoenix, AZ 85004
Rules and Regulations
EXHIBIT RULES:
Exhibits cannot exceed 8 feet in height. Exhibit items taller than 48 inches must be placed in the rear 3 feet of your booth.
Do not cover up Fire Extinguishers.
Sound pressure levels must be below 85 decibels, as measured at any edge of your booth. All speakers must be at the back
of your booth, facing forward. No sub-woofers and no microphones.
No cooking demonstrations.
Balloons must be air-filled only (no helium).
Wood less than ¼" in thickness must be flame retardant treated lumber. The product shall not be painted or similarly modified
until the material has been inspected and the flame retardant marking/labeling verified.
All outside fabric, not provided by the decorator, must be fire retardant. You must present the fire retardant certificate to the Fire
Marshal during inspection.
Exhibitors must remain in the vicinity of their booth.
FIRE MARSHAL INSPECTION:
Please be in your finished booth for Fire Marshal inspection by 8:00 AM on Sunday morning. Be sure that you have the fire
retardant certificate available for any outside fabric, not provided by the decorator, and all outside carpeting or flooring is taped
down and secured.
The show will not open unless you are in compliance with the fire marshal regulations.
CARPET:
Room One and the Gown Sale areas are carpeted. All other booths are not carpeted. You may bring your own carpet, or rent
carpet from the decorator: Decorator Order Form
All outside carpeting or flooring must be taped down and secured.
CLEAN UP:
Please remove trash from your booth at the end of the show, and put it into the dumpster. If a mess is left at your booth, you
will be charged a $100 clean up fee.
Show Decorator
Please click here for the 2019 order form.
We partner with Shepard as our show decorator. They offer a variety of options such as carpet, furniture, and even booth rentals. Shepard can also help you with shipping and logistics!
Please read the form carefully as there are different discount deadlines depending on which service you choose.
Shepard Exposition Services
PH 602.283.7312
Email phoenix@shepardes.com
Electrical
Please Click here for the 2019 electrical order form
Discounted rate expires May 16, 2019 so get your orders in early!
Electrical orders are done through the Phoenix Convention Center / Commonwealth Expo Electric.
PH 602.253.5881 Fax 602.253.5530
Email: (LeAnn)
lwhitehead@commonwealthelectric.com
Internet
Please click here to access instructions to purchase internet for your booth.
Discounted rate expires, May 14, 2019 so please place your order early!
Internet is provided through
Smart City Wireless Services
1.888.446.6911
Loading Dock Access
You must enter through the East Garage either off of E Jefferson St (East bound) or Washington Street (West bound), both are one way streets. South 5th Street will be closed to through traffic on Saturday, June 1st for Exhibitor move in and during move out hours on June 2nd. Once in the East Parking garage, you will be directed by Signage to drive through the ground floor (Westward) towards the convention center loading docks across the street from South 5th St. and into an available unloading space or slip (for large rentals/trailers/box trucks) appointed to you by the PHX Police Officers/Security on the street.
*It is highly recommended that you cart your booth materials from your car if you do not need a dock. You can park in the East Garage and unload from there, walking over your materials.
Please remove your items quickly and place in your booth, grab an exhibitor badge, and then move your vehicle into the East Parking Garage or the South of Jefferson Parking Garage on 3rd Street. Parking is $5/day for exhibitors if you tell them you are with the Bridal Show and can show them an exhibitor badge. Please note large vehicles cannot be accommodated here.
Move In
Saturday, June 1, 2019 10am - 5pm
Sunday, June 2, 2019 7am - 8:30am
Location – Loading Dock F & Dock G
South Building, Phoenix Convention Center
Loading Dock Entrance on Fifth Street
Please note that you may not leave your vehicle unattended on the dock or in the dock area. You may pull onto the dock to unload your car but you must park your car before setting up your booth. Unattended vehicles are subject to tickets and towing.
LOAD IN HELPERS:
Helpers with handcarts may be available to help move your materials from the dock to your booth during set up on Saturday
and break down on Sunday post-show. Helpers will not be available Sunday morning. We highly recommend you bring
your own handcart to expedite your load in process.
Move Out
Sunday, June 2, 2019 3:01pm - 9pm
*Please note that tear down may NOT begin before 3pm. Exhibitors tearing down/moving out before show close will not receive the bride list.
LOAD OUT HELPERS:
Helpers with handcarts may be available to help move your materials from the dock to your booth during tear down on Sunday afternoon. We highly recommend you bring your own handcart to expedite your load out process.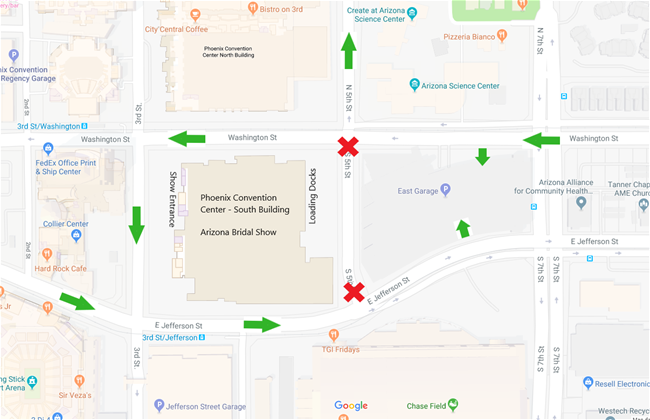 Bride Bag
Get your information in the hands of over 3,000 brides before they even visit your booth!
DETAILS:
Fee: $175
Number of printed items: 2,500*
Booking deadline: May 21, 2019
Drop off deadline for materials: May 24, 2019

*Limit one 8.5" x 11" (or smaller), unfolded piece of literature per paid exhibitor. NO catalogues. Literature may not contain any nonexhibitor information. All literature must follow all delivery instructions and deadlines in order to be included.
Contact your sales rep today to add this valuable package to your show marketing before May 21st. *
DELIVERY INSTRUCTIONS (Before May 26, 2019):
Please send or drop off your literature directly to the address below:
GOMPERS HABILITATION
5340 W. Bethany Home Road
Glendale, AZ 85301

Gompers is open Monday through Friday 7:30 AM – 3:30 PM. Please drop your pieces off at the front lobby and mention
the Arizona Bridal Show. Pieces dropped off/delivered after the deadline (May 26, 2019) will NOT be accepted unless arrangements
were made in advance. Exhibitors who have not paid for the bride bag will NOT be inserted into the bride bag.
Bride Scan
BrideScan is the ultimate mobile app you will need as an Exhibitor at the Arizona Bridal Show.
You will receive an email from Bridescan about 2 weeks before the show.
Simply follow the link provided in the email and create your profile. In the description you can include links, but you must use the complete url address.
Just before the show starts open Bridescan and take a picture of your booth with your staff. This picture will be transferred with your barcode is scanned.
You will receive your printed barcode before the show begins to display in your booth.
As brides walk the floor they may choose to scan your barcode. When they do - their info will be swapped with yours. Their info will be immediately available on your app.
After the show you can review your scans on your phone or you can open www.BrideScan.com on your desktop and download your scans to a file on your desktop.

If you have any questions regarding BrideScan - call 865-531-3941.
If you were an Exhibitor in the January show - your barcode is the same.
BrideScan is available on both iOS and Android mobile devices.

Sampling
PERMITTED SAMPLES: You may pass out food or beverage samples ONLY if it is part of your business. For example, caterers or cake companies who are
sampling their own products.
NON-PERMITTED SAMPLES: You may NOT pass out food or beverage samples as traffic-builders to your booth. For example, a photographer may NOT pass out candyor cookies or bottled water. To sample, you must file separate forms with Maricopa County and with Aventura (Convention Center Caterer).
MANDATORY FOR TO MARICOPA COUNTY
You must file ONE of these two forms with Maricopa County:
1. If you do NOT have a current, valid Maricopa County MOBILE Food Permit, you must apply for a "Temporary Food Service Permit." Click the link to find the Temporary Event Permit Application: Mobile Food Permit
2. If you DO have a current, valid Maricopa County MOBILE Food Permit, there is no charge. However, you must submit the following
form, "Food Caters Operating at a Special Event Notification Form."
MANDATORY FORM TO AVENTURA
1. EVERYONE sampling MUST complete and fax the Authorization Request to Aventura at the Phoenix Convention Center, along with a
copy of your current, valid Maricopa County Mobile Food Permit OR your Temporary Food Service Establishment permit. Click the link to find the Aventura Sampling form: Aventura Sampling Form

2. Please bring a copy of your Food Handling Permit with you to the show.
Be sure to have a Hand Washing Station and follow all of the requirements – Maricopa County will be inspecting the bridal show.
Exhibitor Badges
Exhibitor badges can be picked up by Loading Docks F and G at the South Building during move in, or at the main entrance once the show is open.
SHOW INSURANCE
Liability requirements are $1,000,000 and we require a copy of your certificate of insurance sent to Zoe at zoew@mpeshows.com to keep on file. Please email only, do not mail.

We also require that we are listed on your policy as additional insured as Marketplace Events LLC. Our address is:
12800 N. Meridian Street, Suite 135
Carmel, IN 46032
If you do not have an insurance provider, please let Zoe know, she'll be happy to provide one for you!
Parking
Parking is available in the East Garage for $12/day (Height Restriction 7'10" - 48 ADA Spaces)
Hotel Discount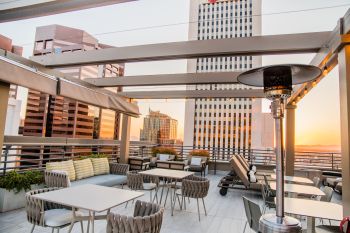 If you need a place to stay during the Arizona Bridal Show (attendees, friends, family, exhibitors, or anyone else) use the link below to book a special rate at our partner hotel, The Hilton Garden Inn Phoenix Downtown.
Click the Phoenix Downtown Alliance option to save 15% off room rates during the weekend of our June 2nd show!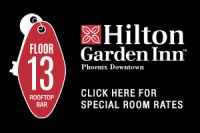 Printing Needs
Do you need brochures, bag stuffers, or signage printed? We've partnered with Papercrazy to help you! Please be sure to reach out before May 9th to take advantage of their printing specials: hellopapercrazy@gmail.com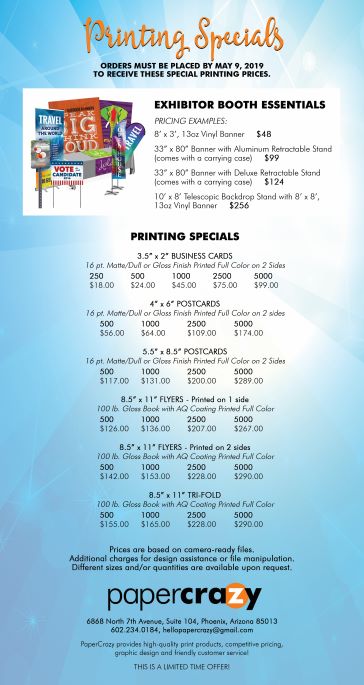 ADDITIONAL MARKETING
Want the Web Button for your website?
CLICK HERE TO DOWNLOAD and link it to the show website so people can do their research and buy tickets!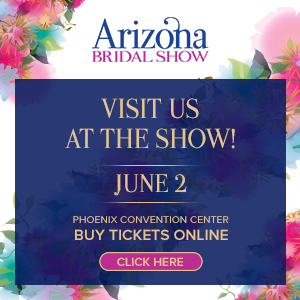 Get social with us! Here is a social media image you can use on such platforms as Instagram. Just be sure to tag us @ArizonaBridalShow and the show hashtag #AZBridalShow19